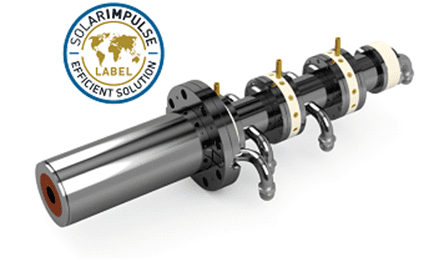 High Powered Plasma Torch
(APT-HP)
A direct replacement of fossil fuel burners in industrial applications, greatly reducing greenhouse gas emissions.
Over 30% of global GHG emissions are derived from the energy-intensive industry sector.  The size of this problem necessitates the implementation of mitigation strategies beyond those geared towards energy efficiency. PyroGenesis' proprietary APT-HP plasma torch presents an environmentally friendly alternative to fossil fuel burners by producing clean thermal energy from low-carbon electricity for use in industrial applications.
BENEFITS:
Reduces GHG emissions by up to 250 tonnes CO2e per GW-h*
Reduces SOx emissions to zero, eliminating SO2 acid rain contributions

Reduces VOC and heavy metal emissions to zero, improving air quality for human health

Reduces operating costs by up to 30%

Eligible for carbon credits

Awarded Solar Impulse Efficient Solution Label (details here)
*Or 70 kg CO2e per MMBTU when hydro power is available, vs fuel oil
HOW IT WORKS:
The high power of the APT-HP torch generates a plasma plume exceeding 5,000°C and transforms materials to valuable products. The APT-HP offers a lightweight, vortex-stabilized, compact configuration which can be retrofitted into existing installations such as iron ore furnaces* and cement kilns, featuring long electrode life, low maintenance, automated operation, and a high level of safety and reliability.
*Patent protected
Description
Non-transferred DC Arc, button style, Vortex stabilized
Length
40'' to 6 feet (1 – 1.8 m)
Weight
75 kg
Diameter
6'' (0.15m)
Power
APT-HP – 200 kW to 2 MW (scalable)
Electrode Life
Cathode: up to 1000 hours
Anode: up to 500 hours

Gas
Air, N2, others available
Safety
Electrically isolated torch cover design, lockout system, completely automated system
Applications
Iron Ore Pelletization (Patented), Steel Tundish Heating, Cement pre-calciner heating, Metallic Dust
Recovery, MSW Gasification, Incinerator Ash Vitrification, Asbestos Vitrification, Radioactive Waste
Disposal, etc.