Custom Reactors and Furnaces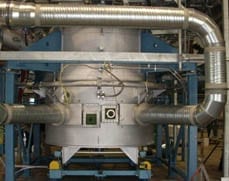 With over 25 units delivered, PyroGenesis offers a wide variety of custom reactors, and furnaces of all shapes and sizes to meet the needs of clients in the advanced materials, metallurgical, environmental and chemical fields.
Experts in high temperature processing of materials (500-2000oC), our team of engineers and drafters can custom-design a vessel to meet the most stringent requirements, from high pressure (over 1000 psi), to corrosive and abrasive conditions along with other extreme environments.
Whether you require refractory or a cooling jacket, PyroGenesis has the expertise to select the best materials of construction for your particular production or development needs. PyroGenesis can offer full turnkey solutions and process engineering services to complement your requirements.
Volume
From 0,001 m3 to 50 m3 (0,03-1760 ft3) and more
Materials of Construction
Carbon steel, stainless steel, various alloys and superalloys, fibreglass reinforced plastic
Lining
Various refractory materials (ex: alumina, zirconia-based)
Coated interior (ex: Teflon, epoxy, etc.) Jacketed vessels for temperature control
Pressures
From full vacuum to over 1000 psi
Applications
Production and development of alloys and nanomaterials
Chemical and petrochemical production
Advanced material research and production
Waste destruction and waste-to-energy
Vacuum plasma spray coatings
Thermal treatment
Additional Services and Features
Insulation
Piping and skid-mounting
Full instrumentation and automation
Hydrostatic Testing
Non-destructive Testing
1 year warranty
Remote support